Sheryl Warner and the Southside Homewreckers close our 2017 season on November 18th!
"Dynamic," "expressive," and "soulfully powerful"—that's how national blues and roots publications describe vocalist Sheryl Warner. Add the gritty yet lyrical harmonica lines of Rick Manson and the propulsive guitar picking of Gregg Kimball, and you have a trio that delivers straight-up blues, ragtime, and roots tunes with a modern edge. Paying homage to the men and women who created the blues idiom has always been important to the band and these pioneers have provided a great source of inspiration for their music. Along the way, Sheryl, Gregg, and Rick have had the good luck to learn directly from traditional artists such as John Jackson, John Cephas, and Nat Riddles. The Southside Homewreckers respect the tradition—that's why the band's members helped organize and fund the James River Blues Society's historic marker program honoring Virginia's blues greats, pioneered the River City Blues Society's "Blues in the Schools" program, and provide educational programs that explain this vital American musical tradition. For more information, visit the band's website at: www.sherylwarner.com. Tickets are $10 in advance and $12 at the door.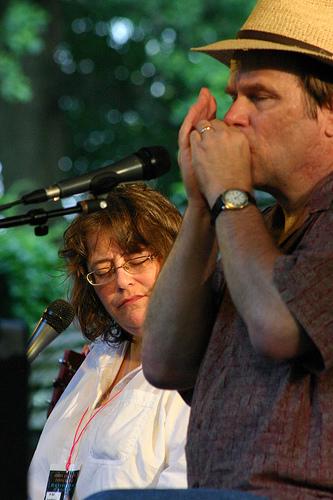 March 18th: Tara Mills and Jimmy Stelling
May 20th: My Son, the Doctor

July 15th: Young Artists Showcase
Sept. 16th: Gypsy Roots
Nov. 18th: Sheryl Warner and the Southside Homewreckers
Feel free to contact us at rvafolk at gmail.com or use our contact page.