Our Young Artists Showcase is on July 15th!
Richmond Folk Music is delighted to feature three fine young musicians from central Virginia at our next concert!

Zak Vincent is a young-blooded old time musician hailing from just south of Richmond. Originally inspired by Harry Smith's legendary Anthology of American Folk Music, Zak employs his banjo, guitar, bones and quills to honor the old traditions that inform his music. Zak plays for regional audiences as he does his part to add to the continuum that is American Vernacular music.
Fingerstyle guitarist Ragtime Pete Sims plays music from the Gilded Age to the Great Depression and beyond with deft skill and a flair for the dynamic. Performing numbers from the vast American musical history of ragtime, blues, klezmer, old-time, Tin Pan Alley, and early jazz, he represents a remembrance of days passed while performing in the legacy of the modern masters.
Matthew O'Donnell is a Celtic folk singer and multi-instrumentalist based in Charlottesville. Matthew performs a high-energy blend of traditional Celtic music and modern foot-stomping neo-folk. Drinking songs, traditional folk tunes, sea shanties and singalong standards are given a 21st-century treatment evocative of Mumford & Sons and the Lumineers, while maintaining their traditional spirit Matthew performs on the accordion, banjo, bouzouki, fiddle, bodhran drum and tin whistle.
Ticket sales will begin soon! Ticket's are $8 in advance and $10 at the door. Purchase your advance tickets today at our Eventbrite page!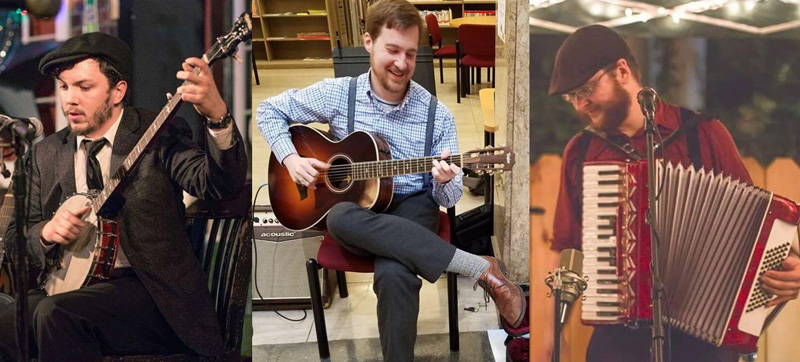 March 18th: Tara Mills and Jimmy Stelling
May 20th: My Son, the Doctor

July 15th: Young Artists Showcase
Sept. 16th: Gypsy Roots
Nov. 18th: Sheryl Warner and the Southside Homewreckers
Feel free to contact us at rvafolk at gmail.com or use our contact page.